Celtic Dragon
Celtic Dragons are believed to be unnaturally lucky, the result of an ancient blessing.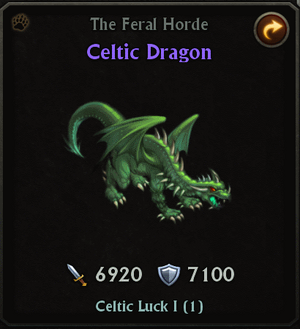 Rarity: Epic (Purple)
Alignment: Feral Horde
Max Level: 60
Skill: Celtic Luck

The luck of an ancient blessing manifests in the blood of this Dragon. This Hero has a x% chance to use a Nature ability that increases the attack and defense of your Hero by y%.
Offense: 6,920
Defense: 7,100